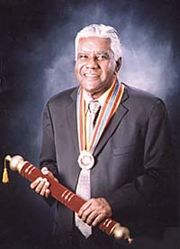 D.S. Senanyake College
is a public school in
Sri Lanka
, named after the first
Prime Minister
of Independent Sri Lanka,
Rt.Hon. D.S. Senanayake
. It was established on February 10, 1967 under the stewardship of
R.I.T. Alles
.D.S. Senanayake College, situated in
Colombo 07
(
Cinnamon Gardens
) is one of the premiere educational institutes in
Sri Lanka
. With the short span of history it has been able to gain many achievements of excellence both in the academic and non academic fields, locally and internationally to be proud as a truly multi-ethnic, multi-religious College which has proudly created unblemished and prestigious record of excellence in academia, sport and community leadership culminating being an institute of highly innovative and patriotic individuals to Sri Lanka. School has current enrollment of over 6000 students with an academic staff over 275. It is among the most desired after schools in Colombo. The school is listed among the
National Schools
, which come under the administration of the
Ministry of Education
, thus has direct funding from the ministry.
D.S Senanayake College provides education to students from Grade 1 to 13 in
Sinhala
,
Tamil
&
English
Mediums. It also provides Mathematics, Science, Commerce & Arts fields for the Advance Level Examinations. The School is fully equipped with Modern Classrooms, Multiple Science Laboratories and Computer Laboratories, Ground & Sports Complex for sports activities. It also has more than 35 Clubs, Societies & Associations engaged in all types of co-curricular activities. There are wide range of sporting activities, be it the track, field or water.
D.S Senanayake College has made a rapid growth in a short period of 45 years. It was the sole commitment of the administration of the school, teachers, parents and students & the past pupils working together to achieve a common goal. Their path was always not cleared. It was a harsh climb to the top, with a lot of sweat, blood & tears in the path that we walked by. Because the founding Principal Mr.
R. I. T. Alles
says.
---
History
In 1965 the number of requests to admit children into the Royal College Primary had become excessive. Thus the
Minister of Education
I. M. R. A. Iriyagolla
took the initiative to build a new school in
Cinnamon Gardens
on the lines of
Royal College Colombo
.
[3]
In 1967, the then
Minister of Education
I. M. R. A. Iriyagolla
began the ground work for establishing the school. It was named after
D.S. Senanayake
, who was the first prime minister of
Sri Lanka
(then
Ceylon
) after gaining independence.
R.I.T. Alles
, a teacher of woodcraft at
Royal College
became the
Head Master
of the new school. The location in which the college stands today was at that time called the Kumbikale jungle
Houses
Students are placed in one of four houses according to their admission number.They compete each year to win the Inter-house Competitions.
– Shura (ශූර)
– Meththa (මෙත්ත)
– Weera (වීර)
– Shantha (ශාන්ත)
Source:-
http://en.wikipedia.org/wiki/D._S._Senanayake_College